Whether you are a newcomer or a long-time resident, the Whitby Public Library can help you find valuable resources, organizations and businesses in our community.
Durham Region's community information website. It is a searchable database of organizations and resources in Durham Region.
Visit Information Durham to search for available volunteer opportunities.
A provincial community information database that allows you to find resources and service organizations in communities across the province of Ontario.
This listing is updated weekly courtesy of Housing Help Durham, part of the Community Development Council Durham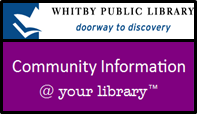 Community Information at Your Library
Specialized lists of commonly requested community information, available to download or can be picked up at any branch of the Whitby Public Library.
Visit our Newcomers page for additional resources and information.