Freedom to Print - Cloud Printing
Cloud Printing allows you to print your files from anywhere!
 
Send from anywhere - library, home or office.  From your browser-enabled desktop, laptop, smartphone or tablet, email your files(s) to print@printme.com and receive a release code.
 
Print
Visit any Whitby Public Library branch to print your document(s) by entering the release code at the printer.
 
PrintMe® Cloud supports the following file types from mobile apps or web upload: Email, text files, PDF, image files (PICT, BMP, PNG, GIF, JPEG, TIFF), web pages (HTML), and Microsoft® Office® files (XLS/XLSX, DOC/DOCX, PPT/PPTX). All file types are supported when files are sent from Mac® and Windows® computers.
 
Here's how it works: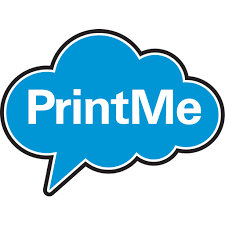 Send an email with the attachment to print@PrintMe.com.
 
PrintMe® will send you an email that contains a Document ID number (Release number).  This 8-digit number will need to be keyed in at  the copier to retrieve your print job.  
 
 At the copier, scan your library barcode to unlock the display.  Tap the EFIPrintMe® icon on the display screen.
 
Next, enter the PrintMe® Document ID Number that you received via email and tap the Next button.
 
You now see the files associated with the PrintMe® Document ID.  When you send an email to PrintMe®, if there is any text in the body of the email such as a message or a signature, a "Mail body:" file is created just in case you wish to print it.
 
At this step, it is important to choose Print Options as EFI PrintMe®'s default print setup is colour and 2-sided printing.  You need to hit the Print Options button in order to choose B&W and One Sided printing.
 
Choose B&W and One Side as required.  Change the number of copies as needed.  Click OK to save these settings.
 
Next, return to the screen that displays the file attachments and you can confirm that your print settings have changed.  Click on the Print button to print.
 
Click on Delete from PrintMe® and the files will be deleted from the cloud.  Click Exit if you do not want to delete the files at this time.  Note the files are automatically deleted from PrintMe® in 24 hours.
 
Log Out to end your session.